Safety Culture Workshops
Safety Leadership Workshops
Safety Professionals are uniquely placed to influence organisational safety and business performance as they are exposed to all levels of an organisation's operations and levels of personnel from management to the new hire. Application of Organisational Psychology (Human Factors) principles and techniques to safety provides greater leverage to that influence. 
Safety Culture Development has a suite of workshops based on Organisational Psychology principles that are designed to assist Safety Professionals use their Influencing Skills to drive significant organisational change through safety leadership . They include:
(Click on titles and follow links for workshop description.)
Safety Culture Development Workshop for Safety Professionals
Introduction to Organisational Psychology for Safety Professionals
Internal Consulting Skills for Safety Professionals,
Facilitation Skills for Safety Professionals
Coaching Skills for Safety Professionals
For further information email

:trevor@safetyculturedevelopment.com.au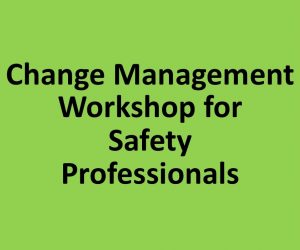 Change Management Workshop for Safety Professionals
This 2-day Change Management workshop for Safety Professionals program is designed to support your development and implementation of change at all levels of your organisation from changing procedures to changing culture. You will learn about  the integrated nature of organisational change, the steps involved in change and ways to manage resistance. As we recognise change only occurs through people, the course focus is on the human aspect of change initiatives.
 Key Learning Objectives
By attending this workshop, Safety Professionals should improve their understanding of and effectiveness in implementing and leading change. Specifically you should be able to:
Describe your safety leadership role as a Change Agent;
Describe the characteristics of successful and unsuccessful change initiatives;
Apply several commonly used organisational change approaches to your change initiatives;
Explain the integrated, systems nature, of organisations and how the importance of identifying the impact of change on all organisation systems— avoid or reduce "unforeseen" consequences;
Describe why employees resist change, how this is normal human behaviour;
Explain strategies to overcome change resistance;
Design, implement and review change initiatives;
Use a variety of tools and techniques such as consultation and key stakeholder analysis, that help facilitate individual and organisational change;
Apply your personal skills to influence change,
and have reviewed a change initiative against workshop learning.
Who Should Attend
This workshop is designed to enhance the knowledge and skills of Safety Professionals responsible for creating  individual, work unit and organisational safety change.
Registration, Venues and dates are:
This workshop can also be tailored and provided in-house.
For further information email

:trevor@safetyculturedevelopment.com.au
Building Organisational Influence:
2 – day workshop for Safety Professionals
Introduction
Many organisational decisions, as well as manager and employee behaviour, impact on the Health, Safety and Wellbeing of personnel who work in our organisations.  Much of the time, they are unaware of the Health, Safety or Wellbeing impact. It is the role of the Safety Professional to influence Managers and Employees so they:
Are aware of the impact their decisions and behaviour has on people in our organisations
Do consider Health, Safety and Wellbeing in their decisions
Do change behaviour to achieve a positive impact on personnel within our organisations.
This challenging workshop is designed to;
Expand your thinking of the extent of your "Circle of influence" to take a holistic view of safety in your organisation
Develop your influencing competency
Develop influencing strategies to use in response to key reasons why people behave the way they do. e.g in change and conflict.
Key Learning Objectives
After this workshop, you should be able to:
Describe the breadth of the opportunity for Safety Professionals to influence safety and business outcomes;
Adapt your influencing approach in response to the situation to achieve desired safety outcomes;
Build and maintain trusting relationships across the organisation to broaden your personal sphere of influence;
Use a business focussed, evidenced base approach to increase influence.
and have developed an Action Plan focussed on a specific influencing issue you have.
Who Should Attend
All Workplace Safety Specialists who are accountable for influencing others across organisations to accept responsibility for workplace  safety.
Current locations and dates are:
This workshop can also be tailored and provided in-house.
For further information email

:trevor@safetyculturedevelopment.com.au
Operational Safety Leadership for Managers and Supervisors
Purpose
A two day workshop (for up to 20 participants) for supervisors and managers of those organisations aiming to:
Obtain buy-in and commitment to safety culture improvement;
Commit to strategic safety culture improvement;
Build internal capability to create and maintain long-term safety performance improvement;
Improve safety leadership performance;
Improve current safety performance and culture; and
Promote the importance of safety leadership. 
Target Audience
This course is ideal for personnel in all supervisory and management positions.
For more information
Contact Trevor Strother on +61400624595 or email trevor@safetyculturedevelopment.com.au
Strategic Safety Leadership for Executives and Directors
Purpose
Giving safety equal weight with other business priorities is a basic strategy for safety and organisational excellence. In our experience, the integration of safety into general business operations, along with the  leadership executives and boards significantly determines the success of the safety commitment.
Evidence from past safety and environmental disasters suggest too that decisions taken at senior levels in the organisation have an impact on strategic safety performance.
There are many examples of situations where the board and senior leadership espouse the vision and values, only to find that they are not being practiced within the organisation.  Examples of misalignment of vision and values include Enron, and, more recently in Australia several large financial institutions have found practices within the business that are not consistent with their publicly stated corporate values.
Safety Culture Development works with Boards and Executive Leadership to ensure alignment of the board's expectations with the business safety culture and culture more broadly.
This workshop is designed to help executive leadership and board members to:
Align company safety vision and operations.
Integrate safety with normal business operations
Understand the need to assess the safety implications of business decisions.
Understand the conditions and methods required for the implementation of a strong, effective and ongoing safety management effort within an organization
Ensure executives and directors understand the health and safety risks of the business and what is being done to minimise those risks
Satisfy themselves that operations are carried out with the same rigor as financial assessment and management is performed.
This workshop can be modularised and can also be run internally.
Transfers and Refunds
Transfers and Refunds
Click on the link below for out Transfers and Refunds Policy.
For more information
Contact Trevor Strother on +61400624595, email trevor@safetyculturedevelopment.com.au or fill in the form.
Contact us to find out more